JAN 20, 2022 11:00 AM PST

JAN 20, 2022 11:00 AM PST

Date: January 20, 2022 Time: 11:00am (PST), 2:00pm (EST), 8:00pm (CEST) The Human Gene Mutation Database (HGMD) is a one-of-a-kind resource containing data for hundreds of thousands of varia...

OCT 13, 2021 4:30 PM PDT

In this session we will use a set of reads enriched for viral sequences and sequences from wastewater treatment plants. Specifically the aim is to assemble whole SARS-CoV-2 genomes from such...
OCT 13, 2021 3:00 PM PDT
Since late 2020, several prominent SARS-CoV-2 variants of concern have emerged, harboring specific mutations which increase viral transmissibility Delta variant) and which appear to reduce t...
OCT 13, 2021 1:30 PM PDT
One significant challenge with SARS-CoV-2 wastewater monitoring is the lack of optimized and standardized sample processing steps, from sample collection to RNA detection. Viral concentratio...
OCT 13, 2021 10:30 AM PDT
By examining the host response to SARS-CoV-2 infection we gain valuable insights into viral pathogenesis and COVID-19 progression. MicroRNAs (miRNAs), a class of small (18-22nt), non-coding...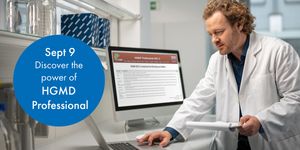 SEP 09, 2021 7:00 AM PDT
Date: September 9, 2021 Time: 7:00am (PDT), 10:00am (EDT) Founded and maintained by the Institute of Medical Genetics at Cardiff University in 1996, HGMD attempts to collate all known, publi...
JUN 30, 2021 11:00 AM PDT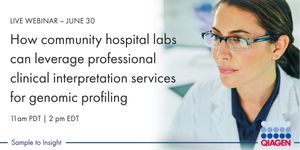 JUN 30, 2021 11:00 AM PDT
Date: June 30, 2021 Time: 11:00am PDT As next-generation DNA sequencing technology continues to evolve and become further integrated into routine clinical testing, the need for efficient and...
FEB 24, 2021 3:00 PM PST
Single-cell gene expression analysis helps biologists and bioinformaticians reveal complex and rare cell populations, uncover regulatory relationships among genes and analyze and visualize g...
DEC 15, 2020 2:00 PM CET
C.E. CREDITS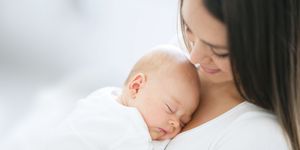 DEC 15, 2020 2:00 PM CET
Date: December 15, 2020 Time: 5:00am (PST), 8:00am (EST), 2:00pm (CET) QIAGEN proudly presents Dr. Tanja Nikolova, a leading expert in the field of obstetrics with extensive experience in...
NOV 12, 2020 4:30 PM PST
With QCI services your clinical lab can enable a seamless fastq to clinical report workflow. We provide services such as cloud based variant calling and automated upload of the data to the Q...
NOV 12, 2020 3:00 PM PST
What if your lab could perform exome sequencing with the same sensitivity and efficiency of targeted sequencing? The new integrated QIAseq Human Exome TR Insights solution from QIAGEN delive...
NOV 12, 2020 10:30 AM PST
Cell-free DNA (cfDNA) is a key analyte for liquid biopsy samples. Due to extremely low concentration and high degree of fragmentation, the extraction of cfDNA is technically challenging. Her...
OCT 08, 2020 6:00 PM PDT
While circulating cell-free DNA (ccfDNA) and to some extend CTCs from blood are routinely used as analyte in liquid biopsy cancer research applications, circulating cell-free RNA (ccfRNA) ha...
OCT 08, 2020 4:30 PM PDT
Multiplex detection of oncogenic mutations using LNA-based assays on the QIAcuity digital PCR system Digital PCR (dPCR) enables specific and sensitive detection of genetic alterations in onc...
OCT 08, 2020 1:30 PM PDT
Martin highlights various factors impacting molecular analysis from FFPE samples and key challenges and considerations while working with this precious yet challenging sample type. Learning...
SEP 10, 2020 3:00 PM PDT
While global demand for food is expected to increase significantly (70% by 2050), the agricultural industry is suffering from a decline in soil fertility, the adverse effects of climate chan...
SEP 10, 2020 12:00 PM PDT
In this webinar, we will present QIAGEN CLC Genomics Workbench and its utility for bacterial isolate identification, strain discrimination using core genome multi-locus typing (cgMLST) and d...
SEP 10, 2020 11:00 AM PDT
Learning Objectives: 1. Understand the challenges of extracting DNA from human samples for microbiome analysis, and learn about the best technologies for accomplishing this 2. Learn about pr...
SEP 08, 2020 6:00 AM PDT
This webinar covers various fundamental aspects of performing a successful digital PCR (dPCR) assay on the QIAcuity instruments. An essential parameter to consider in designing a dPCR assay...
APR 22, 2020 9:00 AM PDT
Single-cell RNA sequencing has emerged as an important technology that can reveal gene expression differences between different cell types. This webinar will demonstrate how bioinformatics s...
Opens in a new window Opens an external site Opens an external site in a new window