Date: February 23, 2022 Time: 09:00am (PST), 12:00pm (EST) During this webinar we will present the Lahey four-year journey of using the MBT Sepsityper® solution for the rapid identificat...

The agricultural sector has been through significant changes since the 2018 Farm Bill was enacted. Hemp production was legalized at the federal level in the United States. Hemp production an...
In-house testing is not required federally; however, states differ in their requirements. Cannabis extraction laboratories need to test extracts for pesticides, heavy metals, residual solven...
Most people are familiar with the main bioactive metabolites in Cannabis – cannabinoids and terpenes. The profile of each can be quite complex both in terms of numbers of different spe...
DEC 15, 2021 11:00 AM PST
C.E. CREDITS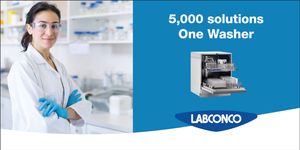 DEC 15, 2021 11:00 AM PST
Date: December 15, 2021 Time: 11:00am (PST), 2:00pm (EST) Glassware washers (GWW) serve two important roles in today's dynamic laboratory environment. First, by automating a routine task...
SEP 30, 2021 9:00 AM PDT
C.E. CREDITS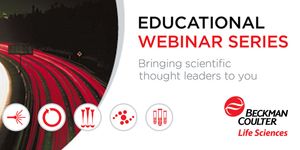 SEP 30, 2021 9:00 AM PDT
Date: September 30, 2021 Time: 9:00am (PDT), 12:00pm (EDT) Centrifugation is an indispensable laboratory application for separating and purifying a range of biological materials. Although a...
SEP 28, 2021 8:00 AM PDT
C.E. CREDITS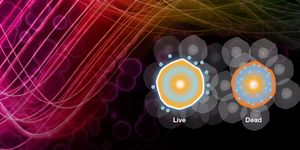 SEP 28, 2021 8:00 AM PDT
Date: September 28, 2021 Time: 8:00am (PDT), 11:00am (EDT) Flow cytometry provides many advantages including single-cell quantitative analysis, high sample throughput, and multiplex cell cha...
JUL 15, 2021 8:00 AM PDT
C.E. CREDITS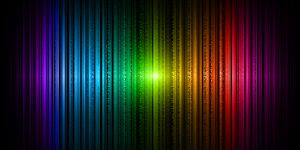 JUL 15, 2021 8:00 AM PDT
Date: July 15, 2021 Time: 8:00am (PDT), 11:00am (EDT) High dimensional full spectrum flow cytometry grants unprecedented access to previously unattainable parameters in cellular biology. Flu...
APR 20, 2021 11:00 AM PDT
Date: April 20, 2021 Time: 11:00am (PST), 2:00pm (EST) Identification and confirmation of microbial isolates is crucial in the analysis workflow, providing decision-makers the information...
APR 19, 2021 8:00 AM PDT
C.E. CREDITS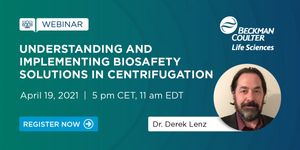 APR 19, 2021 8:00 AM PDT
Date: Apri 19, 2021 Time: 8:00am PDT, 5:00pm CEST Since the inception of modern biological research, BioSafety has evolved into a critical consideration in Good Laboratory Practices (GLP). Wi...
MAR 25, 2021 8:00 AM PDT
C.E. CREDITS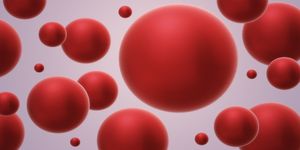 MAR 25, 2021 8:00 AM PDT
Date: March 25, 2021 Time: 8:00am (PST), 11:00am (EST) Flow cytometry has expanded to have more users, more data, and multiple instrument types. While this has lead to more quantitative data...
MAR 24, 2021 10:30 AM PDT
Learning Objectives: 1. Participants will understand how cannabis works with the Endocannabinoid system and what is the Endocannabinoid system 2. Participants will understand how cannabis is...
MAR 24, 2021 9:00 AM PDT
An essential tool in the modern laboratory, the Laboratory Information Management System is embraced for its utility to acquire and mine simple to complex data. The cannabis laboratories hav...
MAR 24, 2021 7:30 AM PDT
Approximately 1 out of every 3 children with epilepsy do not respond to conventional medications, resulting in significant disruption in quality of life. The CDC states that one in 54 childr...
Role of a Cannabis LIMS in Achieving ISO/IEC 17025 Compliance ISO/IEC 17025:2017 is an international accreditation used to standardize the practices of cannabis testing laboratories. ISO/IEC...
Cannabis testing laboratories play a pivotal role in today's cannabis industry. These laboratories test a wide-ranging list of compounds, including cannabinoids, terpenes, and a multit...
Accurate and reliable analytical cannabinoid potency data is essential to operating a compliant, consistent, and profitable cannabis company. Third-party testing labs service this industry n...
From seed to sale, from accurate cannabis potency profiles to reliable, highly sensitive pesticide analysis, the Cannabis and Hemp industries have a demand for robust testing that delivers d...
Most Cannabis testing laboratories perform a variety of tests, full analysis for production QA/QC, and contract commercial testing, while others focus on extraction or purification only, or...
Genetics may influence experience with cannabis and CBD. With increased access to legal cannabis and the research community expanding their focus on the medicinal uses of cannabinoids, more...
Currently in the cannabis industry, there are many different regulations and guidelines. From the federal level with the USDA and DEA, to each individual state, testing laboratories and thei...
As the cannabis analytical market matures so do the requirements for quality assurance testing. This presentation will include an introduction to proficiency testing and how it applies to th...
The cannabis market is rapidly growing as legalization continues to increase across the United States and Internationally. As a result, an influx of different types of cannabis infused edibl...
Terpenes are a broad class of chemicals that are found throughout the Cannabis plant that produce the unique aroma and taste of your favorite variety. Cannabis breeders have been selecting f...
The strong growth in cannabis has led to scaled challenges. As industry has experimented and grown, producers of cannabis oil, both CBD and THC, have started to regularly implement adsorptio...
The utilization of high fidelity long read sequencing is critical for the resolution of repetitive genomes. Cannabis sativa is known to be diploid (2n=20), 70% repetitive, 64% AT rich and 1%...
Over the past few years there has been an increased interest in the role of cannabis for treating medical conditions. Attitude towards cannabis has evolved rapidly with the expanding legaliz...
Opens in a new window Opens an external site Opens an external site in a new window