The Covid-19 pandemic changed our lives forever. It changed how we work, do business, and even interact with family and friends, including how we conduct conferences, trade shows, and events. Before Covid-19, nearly all conferences, regardless of their affiliation, were primarily in-person. With the onset of Covid-19, meetings were forced to go virtual and/or use a hybrid model to mitigate the spread of the virus and allow those who might be immunocompromised to continue their contributions to scientific progress without fear or risk. Recent advancements in AI (artificial intelligence) have greatly improved closed captioning software for live events. Captioning and translation services, as well as the lack of restrictive conference fees, allow Labroots to accommodate people from diverse backgrounds with diverse accessibility requirements. Labroots is taking enormous steps to ensure that accessibility and inclusivity are an integral part of our Custom Virtual Events (CVEs) and Webinars.
Labroots currently offers closed captioning for all CVEs and Webinars upon client request, as we utilize multiple vendors for both live captioning and embedded captions. For our webinars we offer Wordly and AI Media, which use artificial intelligence to allow live translations into more than 20 languages. Also, all our events within Chati, our in-house virtual event platform, will be in full compliance with Section 508 going forward, regardless of client interest.
For example, Labroots recently hosted the "Malnutrition in Clinical Settings: Research Gaps and Opportunities Virtual Workshop" where captions were provided for all live talks throughout the entire event.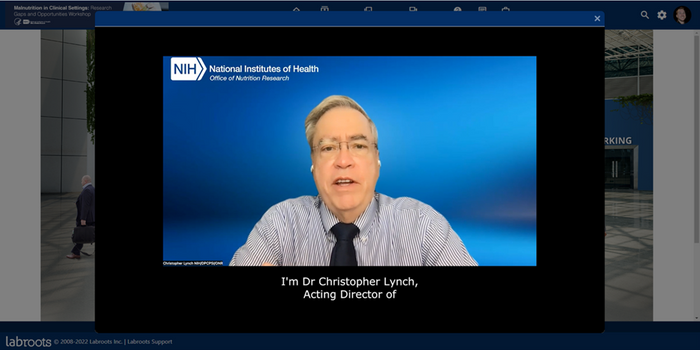 Figure 1. Example of embedded captions during the Welcome Video for "Malnutrition in Clinical Settings: Research Gaps and Opportunities Virtual Workshop." (Credit: Labroots)
Closed captioning is only one example of how Labroots demonstrates its firm belief in accessibility and inclusivity for all our CVEs and Webinars. We also provide other accommodation for those that might require assistive devices or additional services upon request.
Sources: Centers for Disease Control and Prevention, SpotMe, Wordly, Chati, General Services Administration