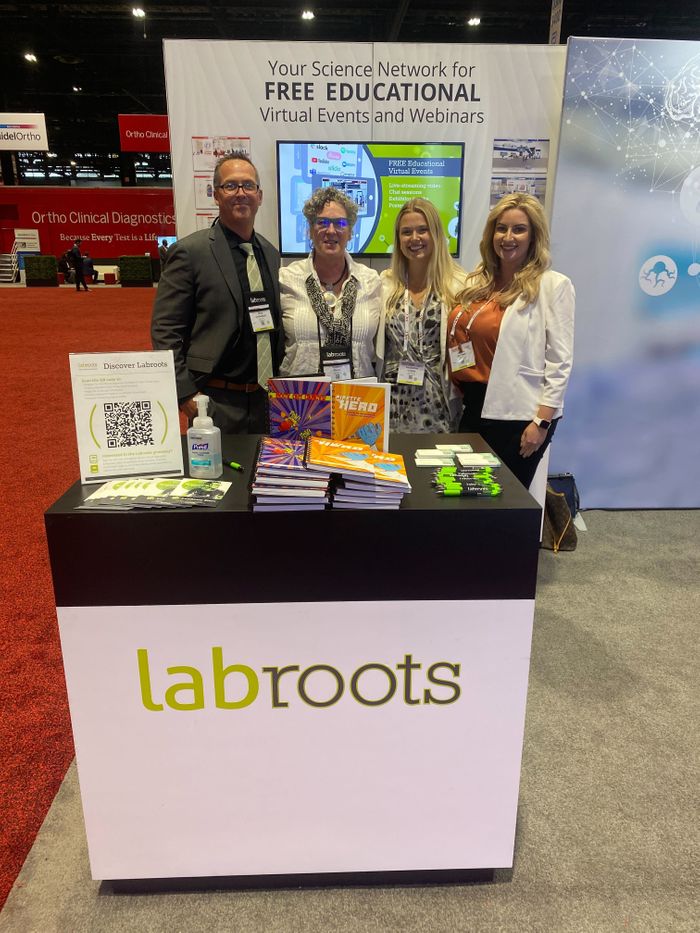 The 2022 American Association for Clinical Chemistry (AACC) annual meeting, held in Chicago from July 24-28, was a tremendous success for the Labroots team! Exhibitors and conference attendees were excited to be there in person, while also being proactive about the latest Covid surge with the conference requiring proof of vaccination and boosters or negative PCR tests.
A particular highlight for the team was meeting clients they have worked with virtually for years, in person. At AACC we saw some familiar faces who sought us out to tell us how much they enjoy working with us, while also making new contacts and connections.
Like at the American Association for Cancer Research (AACR) meeting earlier this year, we once again created and used a custom AACC landing page hosted on the Labroots website. This page was accessible by QR code for event attendees to scan and explore our upcoming virtual events, scholarships, and call for posters. The biggest draw this year was our webinars and the opportunities to offer continuing education (CE) credits.
Despite an odd booth locale by the concessions area, the Labroots booth drew its share of visitors. Not only were people interested in talking to us about our company and products, but they adored our free science-themed notebooks. The best part? Attendees heard about us through word-of-mouth and intentionally searched the tradeshow floor for our booth. It is clear from the responses at the 2022 AACC meeting that Labroots is a growing name in the clinical science industry.
The Labroots team looks forward to exhibiting at future conferences and tradeshows to see the faces of our user base and meet our customers. We are thrilled to continue to provide more and more companies with the opportunity to explore virtual and hybrid event options.