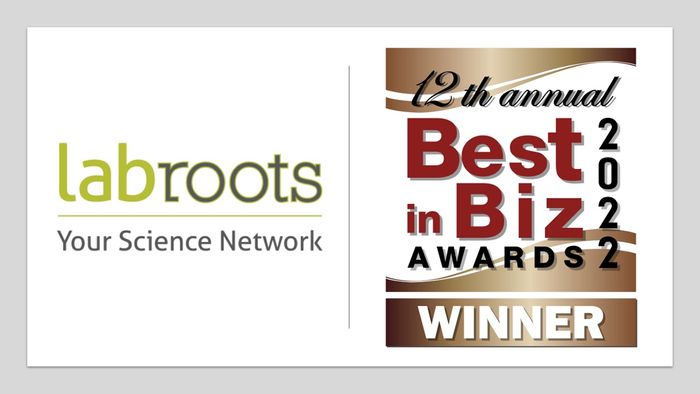 Labroots has been named a Bronze winner in the Business Product of the Year category in 2022 Best in Biz Awards, the only independent business awards program judged each year by prominent editors and reporters from top-tier publications in North America.
This year we focused our nomination on our Hybrid Events and how we work with our clients to ensure that their visions become reality. The Business Product of the Year category focuses on hardware, software, or other types of products produced by small to medium sized businesses. Winning the Bronze in this category showcases our success in working with companies and clients of all sizes across the globe.
"It was certainly a tough decision to vote on the Small or Medium Business Product of the Year, as there were so many well thought out and innovative ideas presented in this category," said Krystina Morgan, Wholesale Central, judging her first Best in Biz Awards. "I commend all of the companies who put these strategies together for their end products, and I honestly think everyone deserves an award, but those who came out on top deserve extra-special recognition."
The 12th annual program saw fierce competition among more than 700 entries from public and private companies of all sizes and representing all industries and regions in the U.S. and Canada, ranging from some of the most iconic global brands to the most innovative start-ups and resilient local companies. This year's judges highlighted the winning companies' visionary leadership, innovative strides in the use of new technologies, laudable employee diversity and inclusion programs and workplace best practices, and many winners' continued community involvement and monetary and time investments in their environment and corporate social responsibility programs.
"The companies of the Best in Biz Awards teach us again a grand truth about organizational karma: the rewards come to those who figure out how to give more, do more, be more," said Dale Dauten, King Features Syndicate, having judged numerous Best in Biz Awards programs since 2012. "These are the companies that you want to work for, work with, buy from and root for. They are the corporate equivalent of a life well-lived."
Since the program's inception in 2011, winners in Best in Biz Awards have been determined based on scoring from independent judging panels assembled each year from some of the most respected national and local newspapers, TV and radio outlets, and business, consumer, technology, and trade publications in North America. Thanks to the impressive diversity of represented outlets and the unparalleled experience and expertise of the editors and reporters serving as judges, Best in Biz Awards judging panels are uniquely suited to objectively determine the best of the best from among the hundreds of competitive entries. The Labroots team is honored to win this Best in Biz Award and is eager to continue our work in creating new and exciting products for the virtual world.
You can see the full list of 2022 winners here!